'Solstice' is a short story by novelist and Noirwich UNESCO Virtual Writer in Residence, Anita Terpstra. It has been translated by Sarah Timmer Harvey.
---
"Hello? Team? I'm lost! Help me!" Nynke cried as she returned to the last clue, which was in Princentuin park. She must have taken a wrong turn.
A ghost tour of Leeuwarden, even if it was to be followed by dinner in a restaurant, wasn't exactly her idea of a fun company outing. Nynke hated horror films and was afraid of haunted houses, so this really wasn't her scene. And certainly not in this kind of weather. It was pitch-dark, cold, windy, and raining cats and dogs. She was soaking wet, chilled to the bone.
At the Weighhouse, formerly the marketplace, a headless "Simon Lunia" had scared her senseless. Simon had been beheaded two centuries earlier during a public execution at the Weighhouse, and now the internet was teeming with stories about people being accosted by a man seeking his head. And at Oldehove, the crooked tower on Wilhelmina square, which had once been a cemetery, she'd been followed by "Red Frouk." Long ago, she had committed suicide, jumping off the tower because of a broken heart, and her spirit had been haunting the square ever since.
In Prinsentuin park, Nynke was on her guard, but nothing had happened. According to legend, on June 21—the day of the summer solstice in 1888—a young woman had entered the park, then disappeared without a trace. Ever since then, the young woman's ghost had been trying to lure walkers into following her. And, just like her, they were never seen again.
With enormous reluctance, she walked through the park's main entrance. Just ahead of her, a young woman emerged from a thicket. Nynke screamed. The woman wore a tattered brown dress and a white apron that was stained around the waist. No shoes, dirty feet. Two braids falling over her shoulders. Her face was as white as a sheet, and she was staring intensely at Nynke.
"Okay, I'm completely fed up with all this scary business. Can you please just take me to the restaurant?" Nynke said angrily. She had no idea where they were dining because it was supposed to be a surprise.
The woman beckoned, and Nynke quickly followed, but after a few minutes, she was struck by doubts. They weren't walking to the town center. Instead, they were moving away from it, toward the water bordering the park, which was always full of boats when the weather was fine.
"Are you sure we're going in the right direction?" Nynke asked.
The woman didn't answer and continued walking until they found themselves at the edge of the water.
"Hello? Can you please answer me?"
Abruptly, Nynke stopped. Was this woman actually part of the ghost tour? Or was she…? Fear flashed through her like lightning.
When the woman noticed that Nynke was no longer following her, she walked back and grabbed her by the wrist. The coldness of her hand startled Nynke.
"Let me go!"
The woman's fingers tightened.
"Ow, you're hurting me."
Nynke gave her a shove, and the woman fell, hitting her head on the corner of a stone bench. She remained motionless, lying on the waterfront with her eyes wide open. Nynke made a run for it. Barely half a minute later, she almost crashed into a colleague.
"What happened to you?" He asked.
"Oh! I can't tell you how happy I am to see you. I got lost and…"
"Didn't my wife come and get you?"
"Your wife?"
"Yes, she's wearing a brown dress and has braids in her hair. She's part of the ghost tour. We thought it would be fun if the tour suddenly ended, you'd all get lost, then she'd pop up and lead you to the restaurant. My wife is really very good, isn't she?" He said proudly. "That dimwit from the admin department almost peed her pants." He laughed. Nynke swallowed hard.
"No," she managed to say, "I didn't see her."
---
Anita Terpstra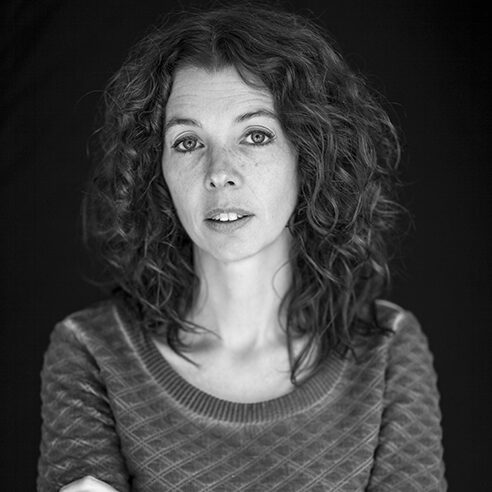 Anita Terpstra (1974) graduated in journalism and art history. Her successful debut thriller Nachtvlucht (Night Flight) was nominated for the Shadow Prize and the Crimezone Thriller Award. Samen (Together) was nominated for the Golden Gallows. Her books have been translated into German and French.
Anita is a UNESCO Virtual Writer in Residence at the 2020 Festival.
Sarah Timmer Harvey
Sarah Timmer Harvey is writer and translator currently based in Brooklyn. Sarah holds an MFA in writing and translation from Columbia University. Sarah's translations, interviews, and writing has appeared in several publications including Modern Poetry in Translation, Cagibi, Asymptote, and Gulf Coast Journal. Reconstruction, a chapbook of Sarah's translations of stories by the Dutch-Surinamese writer, Karin Amatmoekrim will be published by Strangers Press (UK) in September 2020.