Written for Noirwich by UEA Graduate Helen Marsden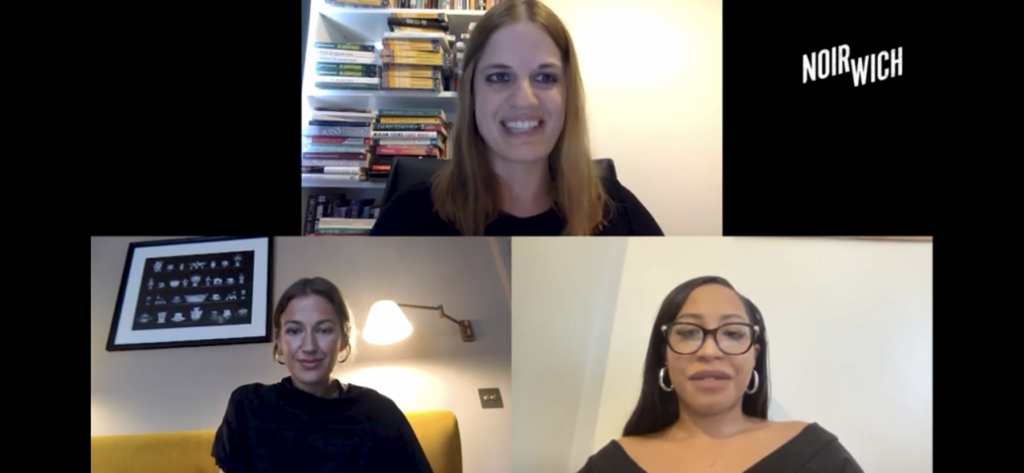 Bella Mackie and Scarlett Brade were the Noirwich panellists for: Murder Most Modern which was brilliantly facilitated by UEA's Julianne Pachico, who is a lecturer in creative writing.
Mackie is a writer and freelance journalist. She is the author of the Sunday Times bestseller Jog On: How Running Saved My Life, a candid account of how she ran herself to better mental health. How to Kill Your Family, her first novel, is a number one Sunday Times bestseller and the biggest selling debut fiction hardback of 2021.
Brade is the daughter of parents who migrated from the Caribbean to England in the early 1970s. She was born and educated in London. The Hive, Brade's first psychological thriller novel, is a disturbingly prescient and terrifically suspenseful revenge thriller for the social media generation.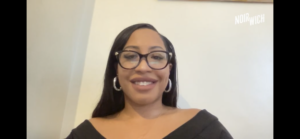 The panel discussed their contemporary revenge thrillers and the intersections with social media, mental health, and identity. Julianne opened the discussion by asking Mackie and Brade about their first experiences with writing and how they came to write novels in the crime genre.
In The Hive, the protagonist Charlotte, kills her boyfriend's new girlfriend and live streams it from a hotel. The reader is actively involved, as viewers can vote as to whether her boyfriend should live or die.
Mackie's novel is a black satire of a dysfunctional family and the media's obsession with murder as the protagonist and anti-hero Grace Bernard reveals the extent of her murderous spree.
Both novels have a brilliant premise, and most readers would be able to relate to the characters experience.
Mackie stated that growing up she read lots of old-fashioned murder mysteries. By the age of eight she had read the entire Agatha Christie crime collection. Her Dad would buy her crime magazines. All summer long she would read. She loved true crime. She loved the idea of an unreliable narrator, and that the reader doesn't know the truth until the end. The fact that Christie had the power to surprise her reader at the end of a novel, for Mackie, was fantastic. As an adult she has read fiction that is much more gritty, gruesome, and violent. She feels like we've gone a bit too far with the exploitation of real stories and disliked the fact that every protagonist was a gruff detective and victims were nameless girls. She always knew that if she wrote something it would have the light touch of an Agatha Christie novel and the plot and twists and intrigue versus the gore and sadistic nature of some modern crime novels.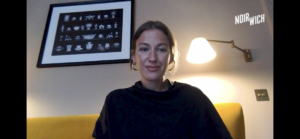 Brade stated that she is interested in the story of what leads a character to crime. What were their motivations? She addresses everyday struggles in her novel and how social media and leading such a public life can lead to some dangerous things. Writing about things that are dark, usually stems from everyday life. Brade said she wanted to play with that and bring it to life. She likes the tight bonds of her characters, backstories, and the unusual lengths the narrator goes to protect her friends.
One of the most distinctive things about The Hive is the way that Brade has reproduced comments from social media. Through this narrative technique the reader gets to see the thoughts of different characters posting online, commenting on key events in the novel.
Brade said that writing some of the social media posts were the hardest parts of the novel. In terms of writing such cruel things about a person she had to get into a troll like mentality. She stated that it was hard to see why someone would sit behind a screen and write terrible things about another person's life. She feels that she has a good relationship with social media now. It is tough but it can be rewarding. Some things are beneficial and others not so and it's a fine line that we all need to navigate.
One of the striking things about How to Kill Your Family is the ways in which people die in the novel. Mackie said she wanted to write a book that wasn't deep on gore or sadism. She knew that the murders would be slightly unrealistic, comedic and a little bit caricature of a murder scene, but they had to believable enough that a reader wouldn't roll eyes and say that would never happen. She had a lot of fun deciding how people would die and she tried to focus it around the characters personalities. There's a person that dies in a specific type of private members club (no plot spoilers!) and she did some research to ask if it was realistic, would this happen? Grace, her protagonist is a very thoughtful and deliberate narrator. The reader is on board and at times cheering for her as well as being gripped waiting to discover how she is going to pull off these complicated murders.
Both Mackie and Brade's novels have very strong and distinctive first-person female voices and personalities. Julianne asked the panellists whether they thought characters needed to be likeable and what makes a dislikeable character likeable. There was a fascinating discussion around the controversy over the years of writing likeable narrators.
Mackie stated that she didn't mean to write a book where you would root for a villain, but you do have to like them a bit as otherwise you can't draw the reader in. She said that as women we are conditioned to be likeable, nice, quiet, and not to make people uncomfortable as otherwise you will be a bitch and that's a terrible thing for a woman to be. She observed that whilst people can root for her protagonist, they know she is a bad person and that we all have nasty inner thoughts, but we don't feel safe to reveal them. Perhaps this is what makes Mackie and Brade's novels so appealing?
Both authors said that their characters have a refreshing honesty. Julianne pointed out that the reader doesn't have to morally agree with what a character is doing to be interested in what they're going to do next. She gave the examples of Fleabag and Killing Eve.
Brade stated that historically crime fiction has often denied women a voice. She wanted her characters to be real. Not everyone is likable. Life isn't a bed of roses. What makes these stories so unique is that the characters are not supposed to be likable. The audacity of the characters is appealing to the reader.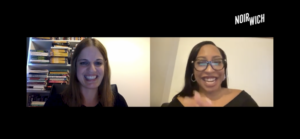 Both authors talked about their process of writing and how their novels came about.
Brade stated that she had a bad breakup with someone that had a big online following. Through this, she saw the dark side of social media. The breakup was quite public, and she had complete strangers messaging her and speculating about what had happened and this is where she got her inspiration from. She wanted to take advantage of something that hasn't been done before and embody what we live through on a daily basis. The Hive has rightly been described as feminist revenge. She said that writing it was cathartic and it was nice to be able to let her feelings out and show people that mental health is important, and social media can affect that if we let it into our everyday lives.
Mackie talked about her process of writing and described revenge as an evergreen classic.
Where she grew up in North London, she came across a difficult, bullying guy and thought that it would be amazing if this character got his comeuppance; someone incredibly wealthy and powerful and an adversary secretly trying to bring him down.
Both authors clearly really enjoyed writing their novels. They went on to talk about their experiences of getting published and hint of what is coming next; both writers have novels coming out next year. It was a fantastic discussion. A must for any crime writer.
You can purchase a watch back link for this event here for just £6!
Copies of How to Kill Your Family and The Hive are available from Waterstones now.
Helen Marsden has just completed the MA in Creative Writing: Crime Fiction at the UEA and has written a novel entitled True Things About You. An extract from her work can be found in the UEA MA Anthology: Crime Fiction 2022 available here.
You can find her on twitter @CriminalHelen