Written for Noirwich by UEA Graduate Helen Marsden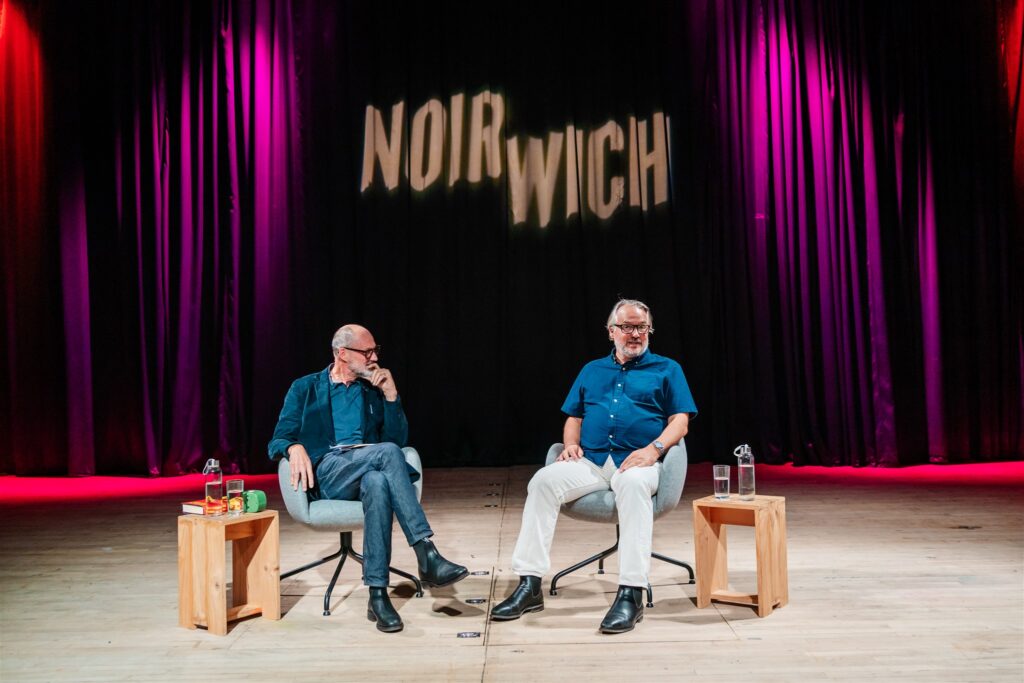 Creator and star of the hugely successful comedy series, The Fast Show, author of the bestselling Young Bond books, and the incredibly successful horror series, The Enemy, and four stand-alone crime novels, Charlie Higson was at Noirwich to discuss his latest adult crime novel Whatever Gets You Through the Night, in conversation with the UEA's Professor of Creative Writing and Crime Fiction, Henry Sutton.
Higson started writing when he was ten years old and studied English and American Literature with Film Studies at UEA. He was a singer and painter and decorator before he started writing for television. Henry noted that there are fifty-three boxes of Higson's work in the British Archive for Contemporary Writing at UEA. I would imagine that is well worth a look.
Whatever Gets You Through the Night is a crime novel with a thrilling sense of humour about dark truths that lurk beneath the surface. The central character is a fifteen-year-old schoolgirl, Lauren Human, who needs rescuing from Julian Hepworth, a good-looking narcissist and sociopath tech-billionaire who is running a tennis training camp in Corfu for the girls tennis team that Lauren is part of. However, he is a suspected paedophile who has set up an abusive cult. The novel treads on Jeffrey Epstein and Ghislaine Maxwell ground. Higson is known for his ability to write satire and Whatever Gets You Through the Night does not disappoint. Despite the dark topics it explores, it is laced with humour and wit and pokes fun at modern life. The novel illustrates how technology intrudes into our lives and dominates. It also touches on the male gaze and how the rich and powerful like to spread conspiracy theories.
What I personally like about Higson's work is that he is not afraid to confront controversial topics. In Whatever Gets You Through the Night, his characters are the vehicle for this.
In creating Hepworth, Higson stated that he wanted to make him properly villainous and intended to construct a villain doing something upsetting and to get into the mind of Epstein and the nasty, evil at the heart of it. He also wanted to explore the dynamic between Epstein and Maxwell and did so by creating Pixie – a female character introduced in the prologue who enables Hepworth. He wanted to highlight how these poor teenage girls are at the mercy of these men and women.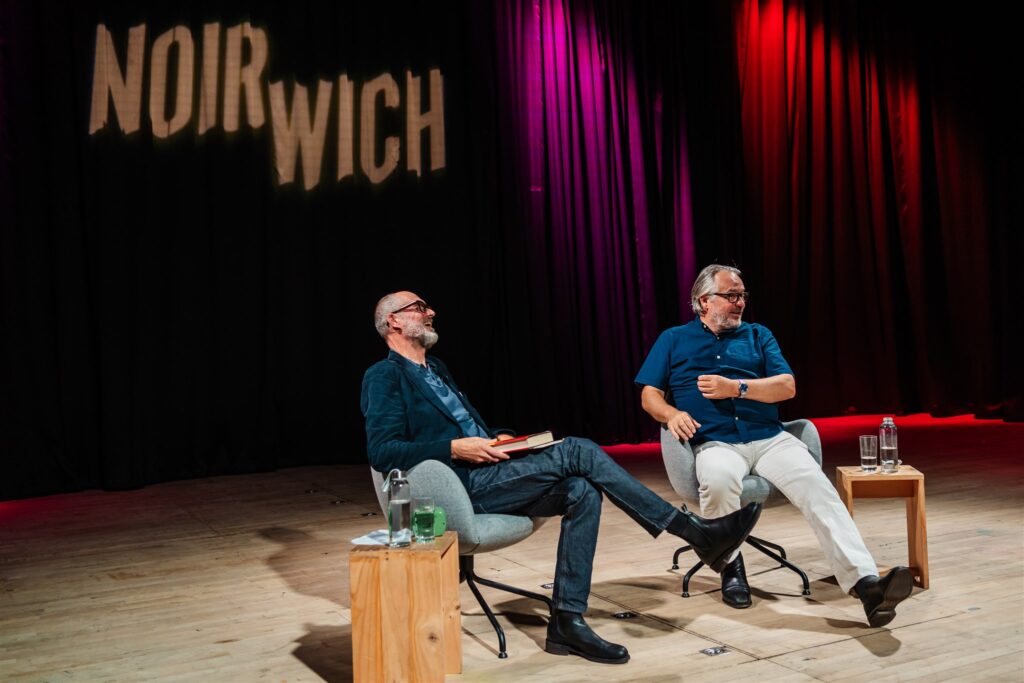 The discussion between Higson and Sutton was like Higson's work; hugely entertaining and a lot of fun – humorous and at times hilarious.
Higson talked with Henry about his love for noir, hard-boiled and pulp fiction and great crime writers such as Raymond Chandler, Dashiell Hammett and Elmore Leonard. He said he likes writing where everything is stripped down and direct. Higson's love of Ian Fleming's work was clear, and his novel contains nods to James Bond.
The secret of Higson's success is perhaps in the way he approaches his writing. He has mastered the components of a good novel: character, setting and plot. He stated that his work with Harry Enfield really helped in terms of learning how to make writing come alive very quickly by creating vivid characters. Higson's strength is undoubtedly constructing visual and satirical characters and scenes. He stated that he isn't really interested in police procedurals and solving crimes, but in characters. He likes multicharacter story lines and exploring views from different perspectives. Whatever Gets You Through the Night is told from multiple points of view. Higson described how important it was for the reader to understand other people's feelings and care about them.
Higson talked about how he likes to explore the twisted mind in his writing and understand the criminal perspective. He finds it fascinating how these characters believe they are doing the right thing, in their own minds. Higson noted that to himself and his friends, Epstein was not evil and was not a paedophile. All his characters are unpleasant yet none of them see themselves like that. He particularly likes novels where narratives are told from the perspective of criminals. His favourite was Jim Thompson, noting that there is often elevation and humour in dark and disturbing themes. He observed that Elmore Leonard put comedy into his books. Higson stated that he felt that it was realistic to have comedy in a novel, even if you are writing about dark subjects. He sees humour as a way to cope with depressing topics. His characters are sadistic, and this makes them nasty and upsetting but he contrasts this by putting humour in everything he does.
The discussion moved onto the significance of place. Picture-postcard Corfu is the setting for Julian Hepworth's tennis academy, and it is here that he also builds a drugs empire. There are breath-taking views and eccentric locals, but this is contrasted with corruption, crime and abuse. When asked about why he chose Corfu for the setting, Higson talked about the contrast between the coastline of Albania and Greece. Most of Albania at the Greek side is dry and brown. He talked about the damage and pollution that wealth and power create and how it seeps out. On the Corfu side the Rothschilds have an estate. He said that they bought part of Albania to protect their view so that nothing else could be placed there. For him, it was a case of the brighter the sunshine, the darker the shadows.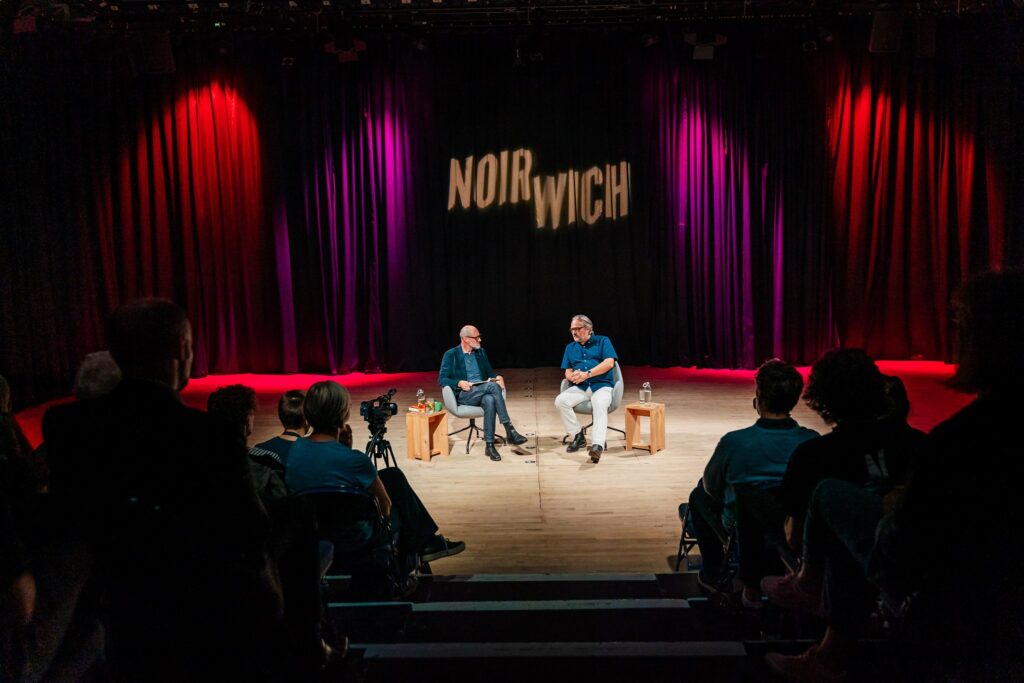 Higson discussed his love of music, and this also comes through in the text and the title of the novel, which is of course the name of a John Lennon song. When he writes he puts together a Spotify list. He noted that the soundtrack to Bond was roughly the length of a working day.
I won't provide any plot spoilers except to say that the denouement converges on a grand finale showbiz party at Hepworth's villa, and everything kicks off from there.
Higson was asked for his best advice for creative writing students. He disclosed that he gets most of his ideas in the bath. It was best not to write the boring bits in books that everyone skips through, and he always tries to write something that he would want to read. You must have a strong idea of what your novel is about and always know how a novel will end. He doesn't have a detailed plan but does have a destination and to get there he can go off on any diversions. He writes his first draft quickly and then loves rewriting, shaping, cutting, and pulling it all together.
It was a very entertaining discussion. You can never have too much fun and humour. Whatever Gets You Through the Night is well worth a read.
Helen Marsden has just completed the MA in Creative Writing: Crime Fiction at the UEA and has written a novel entitled True Things About You. An extract from her work can be found in the Crime Fiction UEA MA Anthology 2022 available here.
You can find her on twitter @CriminalHelen