Here, Noirwich UNESCO Virtual Writer in Residence Paddy Richardson reflects on her home city of Dunedin in New Zealand, and its relationship with writing and crime fiction.
---
On the globe, our little country, New Zealand; three narrow islands at the end of the world and Dunedin, there, right down the end.
Dunedin is a place of hills, trees and harbour, the central city spreading towards the enclosing hills, the houses tucked in amongst them. Out on the peninsula, the albatross soar, the seals bask on rocks. On clear days the sea sparkles, on others the mist comes in, a soft flowing veil of grey. Our buildings are a mix of grand Victorian and semi-modern, the beautiful stone buildings beside the Leith River which form the oldest part of the university, the grand railway station, the now disused prison buildings, gothic and harsh, once the scene of the only hanging of a woman in New Zealand.
Dunedin, at one time the wealthiest city in the country after gold was discovered nearby, has a chequered history of grandeur, wealth and lofty hopes. We are the only city to have castles, two of them in fact, now serving as shrines to the men who wanted to implant European opulence in this land. One is now a crumbling ruin whereas the other has been coaxed over years into its past splendour. But while it has been made beautiful again, Larnach Castle is a place of bygone scandals, secrets, deaths and ruin. If you slide past the black curtain into the third wife, Constance's, boudoir, you feel a shiver in the atmosphere; rigid respectability mixed with disappointment, loss and heartbreak.
Dunedin is a writers' city. The Octagon, placed in the centre of our main streets, is presided over by Robbie Burns' statue and many of the paving stones are embossed with writing from our most famous writers, Janet Frame, Charles Brasch, Dan Davin, James K. Baxter. The University of Otago Burns Fellowship, a year's residency for writers, means that poets, playwrights, novelists come and go in this city leaving their mark.
There is atmosphere and inspiration in our history, our buildings, our breathtakingly beautiful landscape and mood-changing climate. Over the past years, crime fiction has flourished in New Zealand. Here in Dunedin, Vanda Symon's Sam Shephard series gives us a sassy young female Dunedin police officer who takes the reader into what Vanda sees as 'a wonderful mix of moody, gothic architecture and happily grubby and tired modern buildings amongst a diverse and off-beat population.' Writer, Jane Woodham says 'it was easy to set my first novel Twister in Dunedin as the city's gothic architecture and sometimes morose weather helps to create the grim atmosphere we have come to expect in a crime novel'. Finn Bell also uses Dunedin and the far south as settings for his award-winning crime fiction novels whereas Liam McIlvanney recalls his home, Scotland, for inspiration-entirely fitting within a city often referred to as the Edinburgh of the South. Maxine Alterio, one of Dunedin's best-known writers, has also veered into suspense fiction with her latest novel The Gulf Between set in and near Dunedin and in Italy.
As for me, Dunedin, continues to be the city where I love to write. My windows look across the harbour. I watch as the words take shape.
---
Paddy Richardson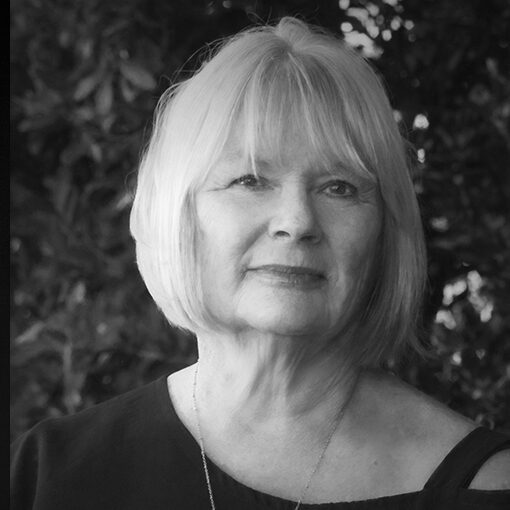 Paddy Richardson is the author of two collections of short stories, Choices and If We Were Lebanese and seven novels, The Company of a Daughter, A Year to Learn a Woman, Hunting Blind, Traces of Red, Cross Fingers, Swimming in the Dark and Through the Lonesome Dark. Traces of Red and Cross Fingers were long-listed for the Ngaio Marsh Crime Fiction Award and Hunting Blind and Swimming in the Dark were short listed. Four of her novels have been published overseas, A Year to Learn a Woman, Hunting Blind and Traces of Reds have been translated and published by Droemer Publishing, Germany, and Swimming in the Dark by Macmillan, Australia. Through the Lonesome Dark was shortlisted for the New Zealand Historical Novel Award and longlisted for The Dublin International Literature Award.
Paddy has been awarded Creative New Zealand Awards, the University of Otago Burns Fellowship, the Beatson Fellowship and the James Wallace Arts Trust Residency Award. She has been a guest at many writing festivals and was one of the New Zealand writer representatives at both the Leipzig and Frankfurt Book Fairs in 2012 when New Zealand was the guest of honour. In 2019, she was awarded the Randell Cottage residency in Wellington where she spent six months writing and researching her latest novel to be published in 2021.
Paddy lives in a beautiful part of our world, on the Otago Peninsula in Dunedin, New Zealand, where she swims, walks, reads and works as a full-time writer.
Paddy is a UNESCO Virtual Writer in Residence at the 2020 Festival.