Written for Noirwich by UEA Graduate Helen Marsden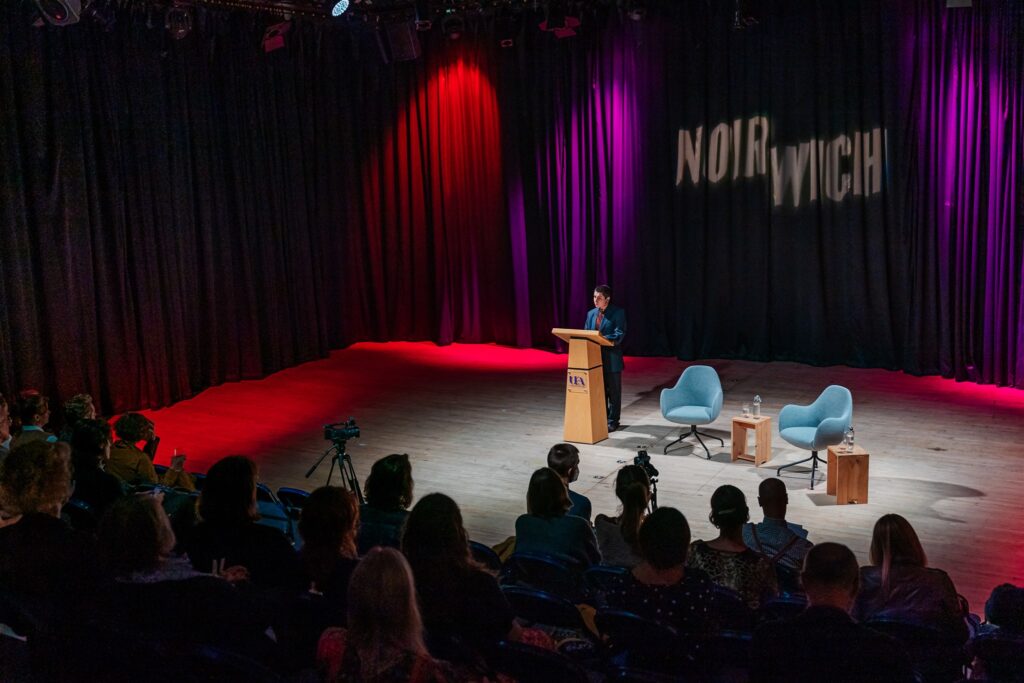 This year's annual Noirwich festival lecture: "It's Terrible to be Terrible and Still Want Love," was delivered by Yelena Moskovich.
Moskovich is an acclaimed author, playwright and artist born in the Ukraine. She emigrated to Wisconsin with family as Jewish refugees in 1991 (aged seven), then alone to Paris in 2007. She is the author of three impressive novels: A Door Behind a Door, Virtuoso, and The Natashas which was long listed for the Dylan Thomas Prize. She also won the 2017 Galley Beggar Press short story prize. She has written for Vogue, Frieze, Times Literary Supplement, Paris Review and Dyke On Magazine.
I was lucky enough to attend the lecture and hear about Moskovich's work and her intentions as a writer. It was a powerful keynote address and one of the most potent, insightful and thought-provoking discussions I have heard for some time.
The lecture focused on her most recent novel, A Door Behind a Door, which has been described as "an exploration of the post-Soviet diaspora, through a mesmeric blending of past and present, desire and violence." Moskovich discussed her work and stated that she hadn't really considered herself to be a crime writer despite many familiar tropes of noir running through her visceral writing.
'A Door Behind a Door,' opens with a phone call to Olga from a convicted murderer Nikolai, who used to live in the same apartment block as her in the former Soviet Union. She is now living in Wisconsin and is in a relationship with a nurse named Angelina. The call provides a catalyst for mysteries and intriguing encounters. An underground Midwestern Russian mafia, and a murder and a string of stabbings, are all connected to her past and pose a threat to her future and the stability of her new life.
The story moves between multiple narrators and the plot centres around an eclectic line-up of fascinating characters: A female prisoner, two teenage girls in a shopping mall, Olga's brother Moshe, a penniless vagrant and a café waitress. The reader is left to piece together how the characters fates are related.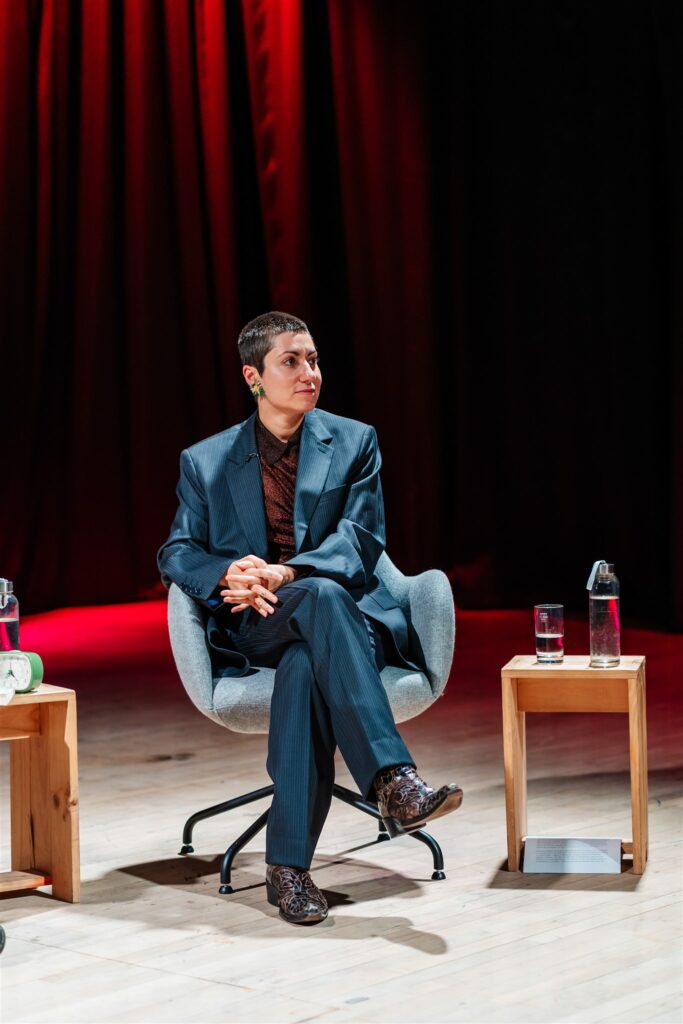 Moskovich has told stories by going against the grain of storytelling and said she had never thought of herself as a crime writer because the world of her writing is lawless by nature – those that inhabit it are trespassers of form. In her stories no one dies because they are already dead. No-one breaks the law because the laws are already broken.
A Door Behind a Door is focused on exploring a state of mind rather than solving a crime. Moskovich's narrative technique has been described as experimental. The timeline is fractured which I personally liked. For Moskovich, language feels intuitively multidimensional. She held it both in fragments and in its entirety and had no need for linear organisation of narrative. Her writing style is as unsettling as the plot.
Moskovich informed the audience that she didn't have a plan when she started to write, just a firm idea and a keen sense of what might happen. When she writes, she knows exactly how it will feel when it's written down. One of the most striking things for me was the evocative, visceral nature of her narrative style and technique and the way she plays with the form.
The novel presents as a set of paragraphs; like poetry stanzas or a film script. Her style is innovative and striking. I felt the influence of theatre in A Door Behind a Door, it was dramatic and pacey; a page turner.
Moskovich noted that her novel has been described as a crime novel in verse. This is not just for the way the story unfolds in lyrical episodes almost like a succession of poems but also in the lyricism she employs to advance the plot.
Her work is often described as experimental. She has no qualms with the label itself but she does think it's important to look at the reputation of this category. The term is seen as a reaction to so called 'traditional literature', as if it cannot exist on its own terms but in relation to the norm. Moskovich observed that this echoes societal perception of those with a difference in mental, emotional, and physical abilities. They are often defined and categorised in relationship to a majority or a norm. A norm that has been constructed within a system that functions and profits from the existence and measure of this normality.
Moskovich is troubled by the reputation of experimental writing as reactionary. She said that it's as if the implication is that it lacks the sophistication of traditional literature. She observed that "literature happens in what is not said. Crime is precisely about darkness. It happens in the dark – even if it's daylight." Moskovich stated that most fiction – regardless of genre, is focused on the thought, feeling and action contoured in the subtextual darkness. But what would the contour look like if it wasn't revealed through the characters relationships to themselves, the other or to the world around them but the relationship between the text and the story.
In the novel, we discover Nikolai's violent upbringing and the grief that destroyed the family of the murdered woman. With a focus on trauma, it is inevitable that a writer would touch on crime. Moskovich's writing evokes a sense of alienation that survivors of trauma often experience, especially in terms of insight into the effects of trauma on the human psyche. She said that she was particularly interested in the construction and sense of reality of those who have experienced trauma as well as those with mental health neurodivergence. This touches on the inherent link between trauma and crime. I personally really liked the subversive nature of her work. Nikolai is imprisoned: "He was a bad boy, and he went to prison to become a bad man." She also observed that: "To be dead there is no need to die," and "It is not the body that carries the voice but the voice that carries the body."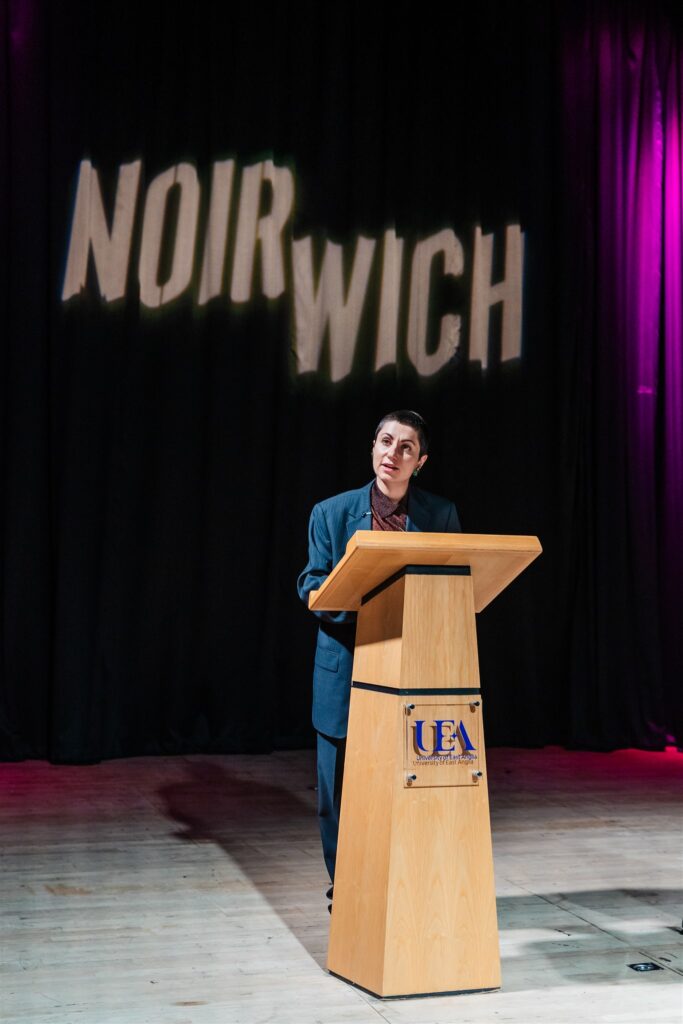 Tom Benn who chaired the audience Q&A after the lecture, and posed a few questions to Yelena, described A Door Behind a Door, as "a crime novel like no other." He observed that it does everything that the crime novel can and should do but entirely on its own terms. He noted that whilst there are elements of the genre in Moskovich's other novels, he felt that A Door Behind a Door was her most 'crimeiest' novel and Moskovich revealed that although it was news to her that she was a crime writer, she agreed with his assertion. Tom asked her if it was a conscious decision to wade deeper into the waters of crime fiction.
With A Door Behind a Door, Moskovich wanted to go wild. She had always written about violence in the most tender way that she could, and she wanted to go as far as she could go with this dynamic – how tender and how violent could she be in one book. She talked about the link between violence and tenderness and posed the question: Can something tender be violent? She suggested that the most opposite of things are often the closest. If tenderness is given the full space to exist there wouldn't be space for violence and vice versa. Moskovich observed that violence doesn't come from nowhere – it comes from a lack of tenderness at a point in someone's life.
Tom commented that all Moskovich's characters are stuck and trapped in a dance of repetition and darkness on their way to hell. For him, the novel feels very noir. He noted that sometimes the characters swap roles where victims become instigators, murderers become amateur detectives. Tom asked her if she saw her characters as being responsible for their own transgressions. Tom also asked her if the protagonist in her work was crime itself. Moskovich stated that she would reflect on this.
In all her work, Moskovich writes about immigration as a kind of death. Moskovich invited the audience to consider the metaphysical sense of immigration: the journey of dying, of killing and being killed. She noted that there are many dimensions of borders. She mentioned puberty as an immigration that we all share – a border that one has to cross from childhood towards adulthood. Loving someone is also a kind of immigration across the border of the self towards the other. People are most familiar with refugee and asylum seekers escaping mental and emotional and physical persecution. There is much to say about their experience and the relationship to language and form.
Moskovich posed the question: What if crime wasn't a story being told but a language being spoken?
Tom mentioned that in Russia the word for authority is sometimes used interchangeably with the word for gangster. He asked Yelena if she sees that the language for authority is also the language of transgression. Moskovich agreed and went on to discuss the concept of morality and the different cultural representations of this. She noted that Anglo-Saxon culture is consumed with morality. In American culture, morality was focused on: "I will die for justice." French literature: "I will die for love." Russian culture, simply: "I will die." Moskovich observed that Anglo-Saxon culture was also focused on creating the perfect innocent character and a criminal who does horrible things to them. You don't find this structure in Russian literature. There is an acceptance that life is hard. The reader is not looking for a human or structural explanation. Moskovich observed that there was flexibility in imagination and in truth. Truth, she noted was not a fixed position. Whilst she has always loved novels where people go to hell, the Soviet Union was built upon the communist rejection of religion. She said that "our hell is a bit different." It's not a moral hell but a place of transgression and truth. It is a social and political code; an opportunity for truth, to contemplate, to face and to integrate the spectrum of human conscience, unconscious, and intention. Free of right and wrong. It doesn't mean that there are no consequences and no structure.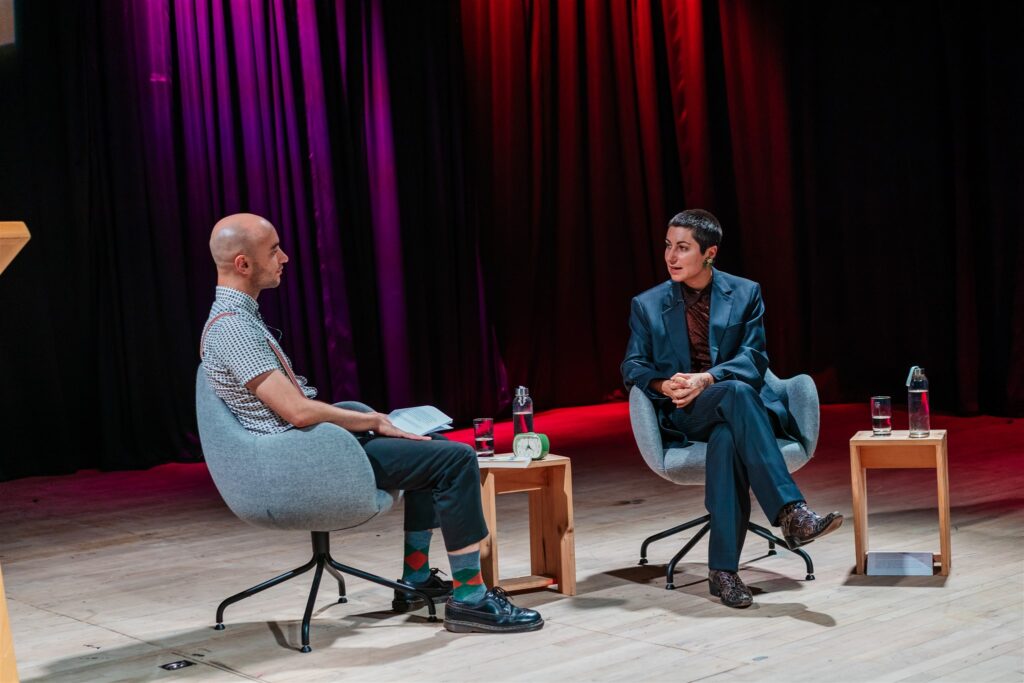 Moskovich is interested in the phenomena of a subject; Its language, its movement and its way of coming into life and dying out. She referred to the cultural guilt inherent in language. Rules of grammar, punctuation, sentence structure and gender allotment to nouns come from the way its voice, its purpose and expression have been sanctioned throughout history.
The building blocks of language are a product of the socio-political regime. A regime that is heavily governed by religious and moral code. Language existed to spread the guidelines of holy text and in turn to keep people in line and to create empires, fortunes, military and profit. The writer is left in a peculiar position – how to use a guilty language.
Moskovich has been consistently urged to make her writing more accessible and coherent. She has been nudged to iron out her fractured prose. It has been alluded to her that if she did so, she could sell more books, be nominated for more prizes, and get more funding. I am glad that she has resisted.
It was a truly fascinating discussion. I would urge anyone to read her work (and Tom's).
You can purchase copies of Yelena and Tom's books from Waterstones.
Helen Marsden has just completed the MA in Creative Writing: Crime Fiction at UEA and has written a novel entitled True Things About You. An extract from her work can be found in the UEA MA Anthology: Crime Fiction 2022 available here.
You can find her on twitter @CriminalHelen