---
---
by Martin Walker (Quercus 2019)
Martin Walker is a prize-winning journalist and the author of the popular Bruno detective series set in the Périgord region of France.
---
---
1.
---
Bruno was still glowing from his morning canter at Pamela's riding school as he sipped his first coffee of the day at Fau­quet's café and scanned the headlines of Sud Ouest. Balzac, his basset hound, was waiting patiently at Bruno's feet for his customary portion of croissant when the dog felt rather than heard the vibration of the phone at his master's belt. Balzac slumped glumly onto his belly and lowered his head onto his paws, knowing that this meant his morning treat was likely to be delayed.
'Bonjour, Florence,' said Bruno after checking the caller's number on the screen. 'This is an early call. Everything okay with the children?'
'We're fine, Bruno, but I'm worried about Claudia. She was really sick last night at a lecture in the castle in Limeuil, but there was no answer when I called just now to see how she was. And her landlady says she never came home.'
Along with several of his friends, Bruno had instantly liked and befriended Claudia, an American student from Yale Uni­versity working on her doctorate in art history and studying with an eminent local scholar. 'Maybe she met a boyfriend,' he suggested.
'I don't think there is one, at least not in France. Bruno, she really wasn't in good shape last night, dizzy and white as a sheet. I wanted to walk her home, but she said she'd be fine, just needed to lie down and rest.'
'Did you check with the urgences?'
'No, I have to get the kids to the maternelle.'
'Okay, I'll take care of it.'
Bruno ended the call, knowing instantly that he wouldn't be able to perform his usual morning role, managing the traffic at the town's nursery school. He called the local fire station – the pompiers also served as the local emergency medical ser­vice – to learn that they had not been called out the previous evening. Then he phoned the town's medical clinic. They also reported nothing unusual. He paid for his coffee and croissant and climbed the steps to the mairie to tell the mayor's secretary he would be going to Limeuil. Back downstairs, he installed Balzac in the passenger seat of his van and set off past the fire station, past the town's vineyard and up the long sloping hill that led to the top of one of the prettiest villages in France, and one of the oldest.
Bruno knew there had been an Iron Age hill fort on this site before Julius Caesar's Roman legions stormed it. They then built their own fortification to command the strategic hilltop that overlooked the point at which the River Vézère flowed into the larger Dordogne. What Florence had called the castle was a modern addition, little more than a century old and erected by a former doctor of the sultan of Morocco who had retired to his native Périgord. He bought the hilltop, ruins of the old medieval fortress and all, and commissioned a new house designed, Bruno assumed, to look like one of the
French Foreign Legion forts in the Moroccan desert. The original white stucco of the walls and battlements was now grey, and the building held the gift shop, café and offices of the team of young gardeners who tended the sprawling hilltop for the town and had turned it into a popular tourist attraction. The castle's large rooms with their view over the two river valleys were now the local cultural centre, hosting lectures, literary events and occasional art exhibitions.
The previous evening there had been a lecture by a local historian on the archaeology of Limeuil, which Bruno would normally have attended but for the weekly meeting of St Den­is's town council. It had been a routine session, and Bruno's only role had been to report on the progress of the plans he'd drafted for the free concerts, night markets and fireworks displays that were mounted for the summer tourist season. This role as impresario for civic entertainments gave Bruno huge pleasure. The session had ended early, and after a brief vin d'honneur for a veteran council member who was retiring, Bruno and the mayor had taken him for a convivial dinner at Ivan's bistro. Bruno had been home and in bed with the latest issue of Archéologie magazine soon after ten and asleep by ten thirty, and looking forward to riding his horse, Hector, at seven the next morning.
Limeuil's hilltop car park was already full, the cars bearing number plates from the Netherlands, Britain and Germany, although it was April, still early in the season for tourists. Bruno left his van outside the nearby restaurant and followed Balzac up the twisting path into the gardens, not yet open to the public, and asked for David, the bearded young man who ran the place. Bruno found him weeding in an area called the apothecary's garden, full of medicinal plants and herbs. As always, whatever the weather, David was wearing ancient leather shorts and several layers of T-shirts, and he and Balzac greeted each other like old friends.
'I haven't seen anything unusual this morning, but I'll ask the others,' David said when Bruno explained the reason for his visit. 'Do you want us to organize a search for her?'
Bruno nodded. 'I'm told she was feeling dizzy, so she may have fainted. Were any of the staff at the lecture, someone who saw her leave?'
'I'll call a staff meeting, organize a search,' David said, pulling out the kind of whistle used by sports referees. 'We've got a school group coming in forty minutes, but we should have enough time.'
He blew three quick blasts, and from various spreads of foliage, past the giant sequoia tree and water garden and around the heap of stones that were all that remained of the medieval tower, two young men and two young women emerged with secateurs or spades in their hands. Each put out a forearm for Bruno to shake rather than offer a muddied hand and then bent down to greet Balzac as David explained the reason for his visit.
'I was at the lecture,' said Félicité, whom Bruno remembered from his tennis class when she'd been a schoolgirl. 'I know Claudia and I remember she got up, said something to Florence and left very discreetly not long after the speaker dimmed the lights to start showing slides. Florence said later that Claudia wasn't feeling well.'
'What time would that have been?' Bruno asked.
'We were all there by seven, and I think the lecture started by seven fifteen. The part with the slides came a few minutes later,' Félicité said. 'There was fruit punch before the talk began. Maybe it disagreed with her.'
The search began while Bruno, Balzac at his heels, went down the hill to Madame Darrail's house, where Claudia had rented a room. Built on a slope so that the entrance from the street seemed to lead into a small, single-storey building, the house once entered revealed a much-larger home. Stairs led to a second, lower floor down the slope of the hill, with the rooftop of another house below. The widow of a man who had run the local canoe-rental centre, Madame Darrail was a dour woman of about sixty with a trim build, dark brown eyes, a sallow skin and iron-grey hair. She spent her summers in the kiosk by the river, taking bookings and money and handing out life jackets while her son, Dominic, ran the canoe business. A native of Limeuil, she was accustomed to walking up and down the steep slopes three or four times a day at a pace that left Bruno breathless. This morning, he felt himself lucky to find her at home.
'Ah, Bruno, you must have got my message,' she began, a worried expression on her face that eased into a faint smile as she noticed Balzac and bent down to pet him. 'About the American girl.'
'There was no message on my mobile,' he replied. 'If you called the landline, I'll get it later when I get back to the office. But that's why I'm here. Florence from the collège was worried about Claudia and called my mobile. She said she'd spoken to you.'
'I last saw Claudia around six yesterday when she got back from work. She'd said she was going out to a lecture, so I'd made some soup and put out some cheese for her, but she said she couldn't eat a thing. She had cramps, you know, so I made her some thyme tea and she took a pill and felt well enough to go to the lecture. I had an early night and didn't realize until this morning when Florence called that Claudia hadn't been back. Her bed wasn't slept in.'
'Can I see her room?' Bruno asked. 'Is it unusual for her not to come back? Does she have a boyfriend?'
'First time I've known her not to have slept here, not that she's been with me long. She never spoke of any boyfriend here. But I think there was somebody in America. She used to have his photo sitting next to her bed, but I don't see it now.'
'And do you know what pills she was taking?'
Madame Darrail shrugged. 'There are some medications in her room.'
Madame Darrail lived on the top floor of the house, with a kitchen and dining room to one side of the entrance hall and a living room and her bedroom on the other. Along the hall was a series of framed photographs, one that seemed to be of her wedding, another of an attractive city of white buildings climbing a hillside from a port, which Bruno thought might be Algiers. The next two were of military men, both in para­chutists' uniforms and wearing red berets. One was a stranger, but the other was the unmistakable General Jacques Massu, his tough features slashed by a brisk moustache. He had been a loyal Gaullist from 1940 until his death.
'Massu,' Bruno said, pausing and looking at the photo.
'A great soldier,' she said. Bruno nodded, although he thought
Massu's temporary victory in suppressing the Algerian inde­pendence fighters had been a classic example of a military victory that was also a strategic defeat. Massu's use of tor­ture had hardened Algerian resistance while at the same time eroding support in France for the war.
'And the other soldier?' he asked.
'My late father. I left Algeria as a baby with our whole family.'
Bruno nodded again. Something like a million French settlers had left around the time that de Gaulle had negotiated Algerian independence. Madame Darrail moved on to a staircase at the far end of the hall. It led to a lower floor that contained two bedrooms and a separate bathroom. Each bedroom had its own sink.
Claudia's room had a magnificent view over the Dordogne Valley, and a narrow balcony with just enough room for two folding chairs. The room held a double bed that was neatly made, a wardrobe, a chest of drawers, a mirror and a small table and chair. A rucksack was under the table, which was piled high with books on art. A smaller pile of paperbacks stood on a bedside table. Postcards of what looked like paintings by Old Masters were sellotaped to every wall.
Tucked into the gap between the mirror and its wooden frame were family photos. Two of them featured a young girl of about nine or ten years old standing between two people, probably her parents. The man was tall, bald and had his hands on the little girl's shoulders. The woman was plump with fine eyes and a cheerful expression, as if she smiled a lot. Behind them was a large garden with steps leading to an imposing terrace and mansion. Despite its old-fashioned style, the building looked new. Another photo, which seemed to have been taken five or six years later, showed the same girl with the same tall man with a third person clearly cut out of the photo.
On a glass shelf above the sink a cosmetics case was open, and Bruno saw two pharmacist's containers of yellow plastic and an opened packet of an extra-strength painkiller, an ibu­profen. One container came from a pharmacy in New York City, another from a store in New Haven, Connecticut. Bruno did not recognize the names of the drugs but scribbled down the details. In the wastepaper basket beneath the sink were some used paper tissues and a photo that had been torn in half. Bruno donned a pair of evidence gloves and put the two halves of the photo together. It showed the head and shoulders of a handsome young man holding a tennis racket, with a handwritten note in English that said, 'All my love to darling Claudia. Ever yours, Jack.'
'All her clothes are here as you can see. Lovely dresses, Armani and Chanel, but most of the time she seemed to wear jeans and sweatshirts,' said Madame Darrail, opening the wardrobe. 'And her lovely silk nightie is under the pillow. It's a Lanvin. When she's not out at work she's working in here on that little computer of hers.' She looked around quickly and then said in a tone of surprise, 'Funny, she must have taken it with her.'
Bruno was leafing through the papers on the desk, mostly printouts or photocopies of what seemed like articles in various learned journals in French, English and Italian about the French Renaissance and the art and sculpture of the period. There were piles of handwritten notes on similar topics, each headed by the name of a specific museum or château. A sketch pad contained a series of pencil drawings of Limeuil and its two bridges over the rivers, of the castle and its gardens and several quick sketches of the market in St Denis. They were so good that Bruno recognized two of the people. Claudia was a talented artist. Alongside all the papers was an iPhone, still plugged into its charger, lying on top of a blue American passport.
Bruno picked up the passport and read that Claudia Ursula Muller had been born in Philadelphia and had a French student visa that was valid for two more years. She was twenty-five years old. Her passport showed she had visited Thailand, Singapore and Britain during the past year. In the phone's case was a small flap that opened to reveal two credit cards. One was a platinum Visa card and the other a black card issued by Muller Investment Trust, of which Bruno had never heard. As Bruno touched the phone screen it came alive with the photo of a white cat staring impassively at the camera. Below it a keyboard of numbers seemed to require him to enter an access code to open the phone, so he put it back down.
'Did she have a handbag or a purse?' he asked.
'I never saw a handbag; she always had that computer case. When she paid the rent, it came from a man's wallet that she kept in her back pocket. She paid me with a cheque on a French bank account, but I forget which one. Claudia kept some other papers in the wallet, like her driving licence and student card, that sort of thing, but there's no sign of it here.'
'Who's staying in the second bedroom?' Bruno asked, won­dering if the landlady had made a point of prying into her lodgers' affairs.
'One of the girls who works in the gardens up the hill, Félicité. She and Claudia are friendly. What do you think has happened to the girl?'
'She may have been more ill than you thought and collapsed somewhere. The gardeners are looking. But if you'll let Balzac sniff her nightie, he might be able to track her down.'
---
---
---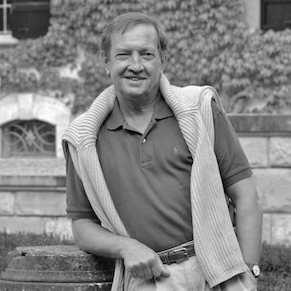 Martin Walker will be in conversation with M.J.Carter at the 'A Taste of Murder: Gourmet Crime' event at Norwich Crime Writing Festival 2019. Grab a Bloody Mary and take a seat at the chef's table as we embark on a palatable journey through their gourmet crime books; encountering French café rituals and heinous celebrity chefs along the way. Book tickets here.