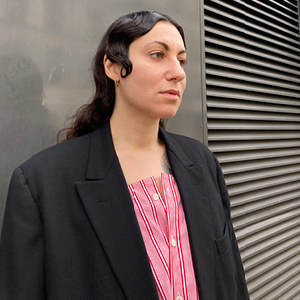 Presented in partnership with the National Centre for Writing
Friday 9 September | 18:30pm | The Enterprise Centre, University of East Anglia
We are honoured to welcome the award-winning Soviet-Ukrainian American and French novelist and artist Yelena Moskovich for the annual Noirwich lecture. Moskovich's ground-breaking novels trenchantly atomise and repurpose tenets of crime fiction to explore fractured identities, living histories and uncanny sins. Their timely lecture will reflect on the volatility and mutability of the written word and the world and why 'Every Russian literary work is a crime novel'.
Tickets £12/£10 concessions
A recording of this event will be available after the festival with our Digital Season Ticket.
IT'S TERRIBLE TO BE TERRIBLE AND STILL WANT LOVE
This is a story about how terrible it is to be alive and how wonderful it is to be dead. This is a love story about hate. This is a crime looking to be punished. This is a story ashamed of its story. It's the same old story. It cannot speak of what it has seen. The story is the transcript of this witness, who was not there, who saw nothing, and who died before being born.
– Yelena Moskovich