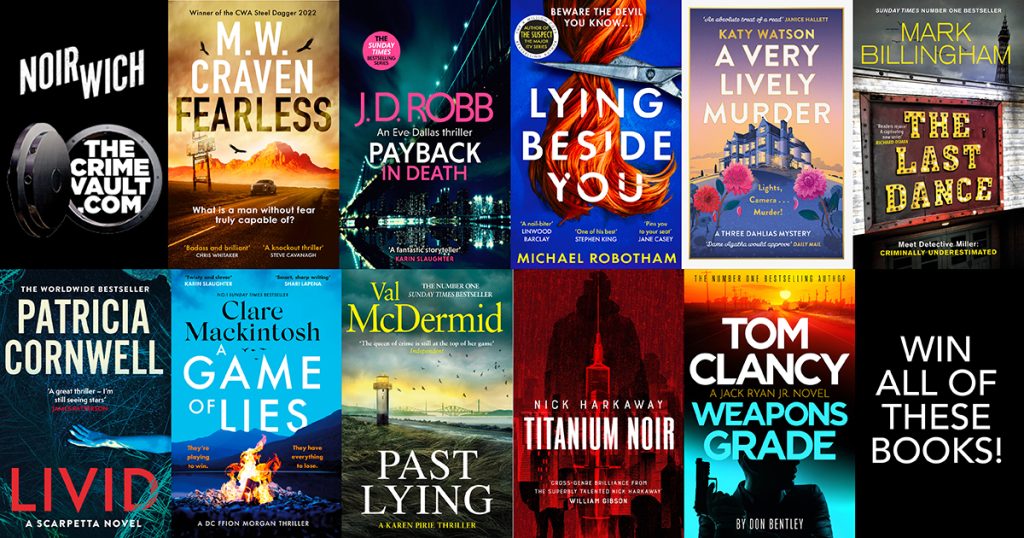 THE COMPETITION IS NOW CLOSED.
On the hunt for exhilarating new crime fiction reads this autumn? Enter the Noirwich + The Crime Vault book bundle giveaway competition!
In celebration of Noirwich Crime Writing Festival 2023, we've teamed up with The Crime Vault to gift one lucky winner with the ten unmissable crime fiction books listed below.
Fearless by MW Craven
Payback in Death by JD Robb
Lying Beside You by Michael Robotham
A Very Lively Murder by Katy Watson
The Last Dance by Mark Billingham
Livid by Patricia Cornwell
A Game of Lies by Clare Mackintosh
Past Lying by Val McDermid
Titanium Noir by Nick Harkaway
Weapons Grade by Tom Clancy
THE COMPETITION IS NOW CLOSED.
The Crime Vault is the place to discover great crime and thriller books and ebooks online. They offer recommendations and competitions to win the latest bestsellers and crime classics, plus brand-new titles never before available in the UK. Showcasing exclusive material by internationally bestselling authors alongside thrilling new voices, all these great reads are available to buy through their online retail partners at the touch of a button on their website: www.thecrimevault.com
Follow The Crime Vault on Twitter and Facebook (@TheCrimeVault)
---
Terms and Conditions
The prize draw (the "Prize Draw") is open to people aged 18 and over living in the UK who enter their details on the Noirwich competition entry page.
Employees of Noirwich Crime Writing Festival, The Crime Vault, or anyone else connected with the Prize Draw may not enter the Prize Draw.
Entrants into the Prize Draw shall be deemed to have accepted these Terms and Conditions.
Only one entry per person.
Noirwich accepts no responsibility is taken for entries that are lost, delayed, misdirected or incomplete or cannot be delivered or entered for any technical or other reason. Proof of delivery of the entry is not proof of receipt by Noirwich.
The closing date of the Prize Draw is 23:59 on Monday 4 September 2023. Entries received outside this time period will not be considered.
One winner will be chosen from a random draw of entries received in accordance with these Terms and Conditions. The draw will be performed by a random computer process. The draw will take place on Thursday 7 September 2023.
The winner will receive a bundle of 10 books from The Crime Vault. Book titles are subject to change.
Noirwich accepts no responsibility for any costs associated with the prize and not specifically included in the prize.
The winner will be notified by email on or before Tuesday 12 September 2023 and must provide an address. If a winner does not respond to Noirwich within 5 days of being notified by Noirwich, then the winner's prize will be forfeited and Noirwich shall be entitled to select another winner in accordance with the process described above (and that winner will have to respond to notification of their win within 5 days or else they will also forfeit their prize). If a winner rejects their prize or the entry is invalid or in breach of these Terms and Conditions, the winner's prize will be forfeited and Noirwich shall be entitled to select another winner.
The prize will be sent to the winner by post.
The prize is non-exchangeable, non-transferable, and is not redeemable for cash or other prizes.
Noirwich shall use and take care of any personal information you supply to it as described in its privacy policy, a copy of which can be found below, and in accordance with data protection legislation. By entering the Prize Draw, you agree to the collection, retention, usage and distribution of your personal information in order to process and contact you about your Prize Draw entry.
Noirwich reserves the right at any time and from time to time to modify or discontinue, temporarily or permanently, this Prize Draw with or without prior notice due to reasons outside its control (including, without limitation, in the case of anticipated, suspected or actual fraud). The decision of Noirwich in all matters under its control is final and binding and no correspondence will be entered in to.
The Prize Draw will be governed by English law and entrants to the Prize Draw submit to the exclusive jurisdiction of the English courts.
The Data Controllers for this competition are the University of East Anglia and The Crime Vault. For more information about what we do with your data, please see our Privacy Policies at www.noirwich.co.uk/privacy-policy/ and at www.thecrimevault.com/imprint/little-brown/page/privacy-notice-general-little-brown/.