Written for Noirwich by Nina Bhadreshwar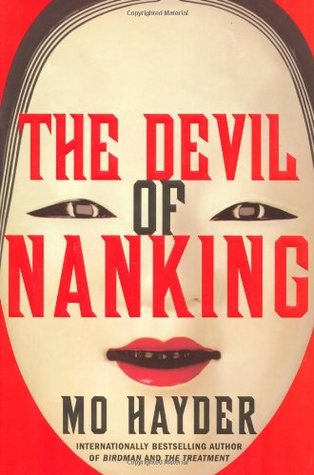 Mo Hayder's Tokyo (aka The Devil in Nanking) was the novel that made me sit up and want to write crime fiction. A random purchase from W H Smiths in 2005 while studying in Falmouth changed all that. I inhaled the novel in a weekend; it crawled under my nails and never left. On the Monday, I went into class and said, 'I want to write like Mo Hayder.' 'Who?' I showed my tutor the book at which she sniffed dismissively. 'Ohhhh. Genre fiction.'
I didn't care what it was – it was the kind of writing I wanted to do, the stories I wanted to tell and read. Mo was elusive but her writing was not. She fearlessly presented some of the ugliest parts of human nature – not as deviant but latent, in all of us.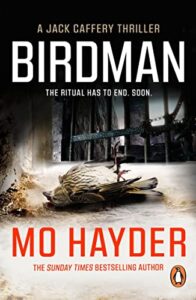 An early precocity drove her, a school-leaver at 15, to get into fights, an early disparate marriage, stints as a Page 3 model, actress, barmaid, security guard, a TEFL teacher and filmmaker. The logical conclusion, if not the expectation, of such a trajectory was crime fiction. She duly exploded onto the scene with Birdman in 2000, a tautly structured tale of unravelling horror. Far from repelling, Birdman became an instant bestseller, Jack Caffery a favourite flawed detective.
Mo said crime writing was a way of 'getting rid of ghosts', her style the opposite of cosy crime. She had a fascination with death and violence against women – interesting as most of her TV roles were based on the objectification of women. As a filmmaker, she made films where couples who went to bed together resulted in the woman pulling the man's head off and casually eating it before throwing the skull out the window like chicken bones. Some might say that's the healthy reaction of a former Page 3 model. But, instead of taking the most expedient route of writing novels about seedy men in TV and media, Mo crafted dark, subversive page-turners set in worlds at once familiar and exotic, with the confidence to compete with the sharpest thrillers in a male-dominated genre. While an elliptic biography hints at plenty, it also indicates a sharp wit, a woman who knows her own worth and escapes just in the nick of time. Ultimately, the blonde bombshell outshone all the headline acts she was asked to play the object in, trod on Benny Hill's and Cannon's balls, serving up the goods to a ringing cash register. Five may have gone mad on mescalin but Mo kept mum. Crime fiction is indebted to a woman who chose a different route, her true intellect blazing through intricate plots, leaving corpses of her tormentors in undignified places. She tugs at the reader, charming you into accompanying her down alleys and hovels no rational self would ever go. But, afterwards, far from feeling violated, there is a sense of exhilaration. It's empowering to read narratives where the protagonist walks directly into his or her fears.
Although known for graphic gore, the elements that made Mo a bestseller are to do with craft: impeccable suspense writing and weaving themes, subtle as ghosts and gossamer, throughout pages of intense dialogue or sharply observed places. The detail of the lives of hostess or show-women is so intimate you can smell the hairspray, the cigarettes and diesel fumes. She plays with the expectation that pretty women are built to please, not to be smart, and this combination creates anticipation of the inevitable violence. Hayder uses this as her leverage for suspense, inverting the femme fatale and creating something entirely different.
Delicacy and violence proved a winning combination, riveting readers on the page. Mo was ultimately a storyteller of the highest calibre, her commerciality preventing her from being savoured critically. She is still both inspiration and muse to many. Her early departure is speculative fiction's loss. Thankfully, crime will always have her true and golden legacy: ten terrifying novels.
Nina Bhadreshwar is a writer and illustrator, usually doing beauty and music editorials on both sides of the Atlantic. She has been writing crime fiction in secret for decades and has just finished her first crime fiction novel for publishing at UEA.
@ninabhadreshwar (Instagram)
Website: www.bhadpublicity.com